Stepping Out: An American road trip
Always on the go, dancers often find themselves hopping from one city to another either to perform or to take a much-needed break. This series highlights the various places that Ballet Manila dancers have visited, along with some tips that travelers of all trades would appreciate. Here, BM company artist Anindya Febrina of Indonesia shares her adventures while on a family vacation in the United States.
By Anindya Febrina
I don't usually go on vacations. I always feel anxious about leaving ballet, not taking classes, not being able to stay in shape. But last December, my half-sister who lives in California managed to coax me into taking a vacation there with three other family members. She even sponsored my whole trip! I have always been close to my family. They always miss me, as much as I miss them, when I'm too busy doing ballet!
For our one-week road trip, my half-sister rented an SUV that could fit five of us comfortably, with our luggage, winter coats and boots stuffed in the cargo space behind. The problem about travelling during winter is that cold weather clothing takes up so much room!
Most of the time there, I wore three layers of clothing (a thermal shirt, a sweater plus a coat or a thick jacket) and three layers of socks too! And I was still freezing. But the views I was about to see made all the freezing worthwhile.
From Solvang to San Francisco
Our first stop was the unique Danish village Solvang in Santa Barbara county. Solvang was founded by a group of Danish immigrants in the early 20th century. From Solvang, we drove up to and stayed overnight in Monterey Bay.
We drove for about two hours from Monterey Bay to San Francisco, to see the sights it's known for – the Golden Gate Bridge, the famous Lombard Street and the Fisherman's Wharf.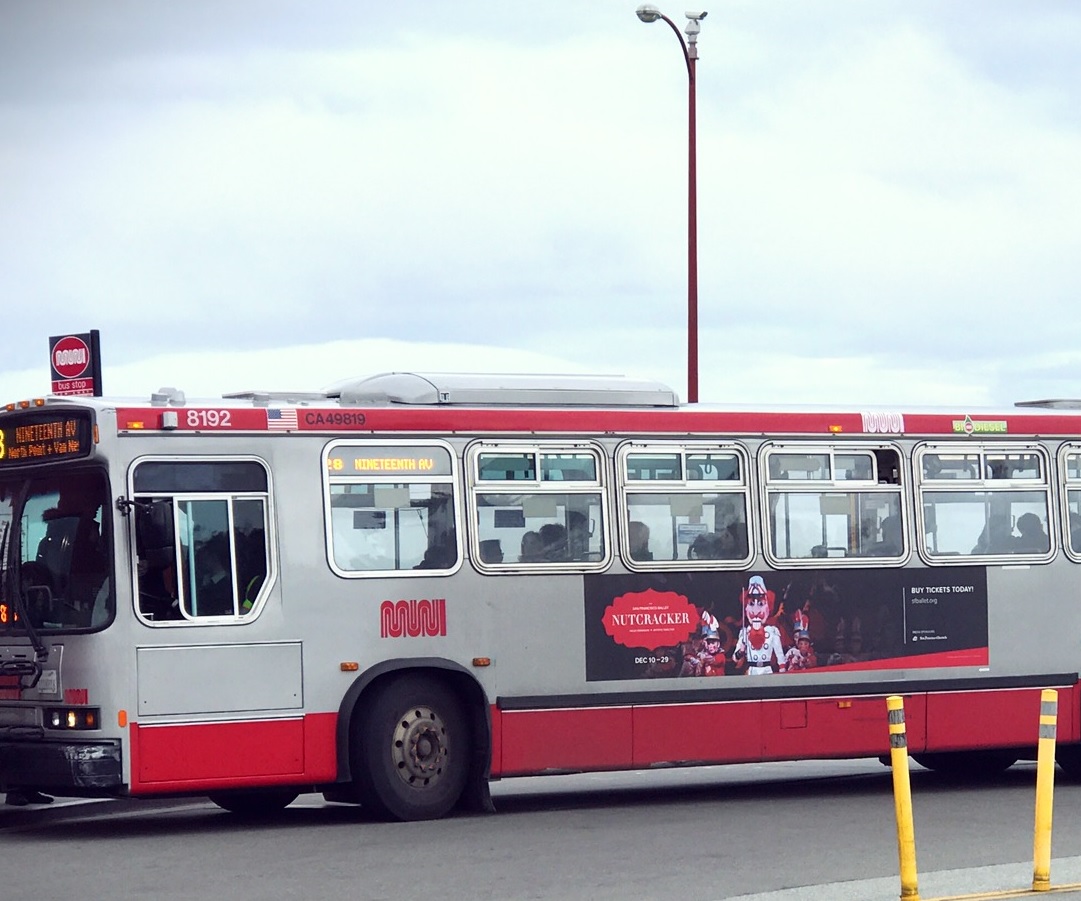 Redwood and Lake Tahoe
From San Francisco, we drove to a small town called Petaluma to rest and spend the night there. The next morning, we continued our trip up to northern California, to see some of the world's oldest trees at the Redwood National and State Parks.
We stayed overnight in Klamath before continuing the eight-hour drive the next morning to South Lake Tahoe, which is located on the state line between California and Nevada.
In South Lake Tahoe, we took the gondola up to Heavenly Mountain where people go skiing, and from where the entire Lake Tahoe can be seen. This is where I decided to have some ballet-themed shots of myself taken – in just a leotard, a flimsy skirt, and pointe shoes!
It was a crazy idea, but my family encouraged me to do it, so I did. Some tourists who happened to pass by watched and smiled as I posed for the camera, trying to look calm in the extreme cold. I could only last ten minutes before putting back my warm clothes on in the quickest costume change I've ever done in my life!
We had lunch at the Tamarack Lodge which was packed with tourists and skiers that day, before heading down the mountain in another gondola ride. Later we went to the beach to watch the sunset and take some more pictures.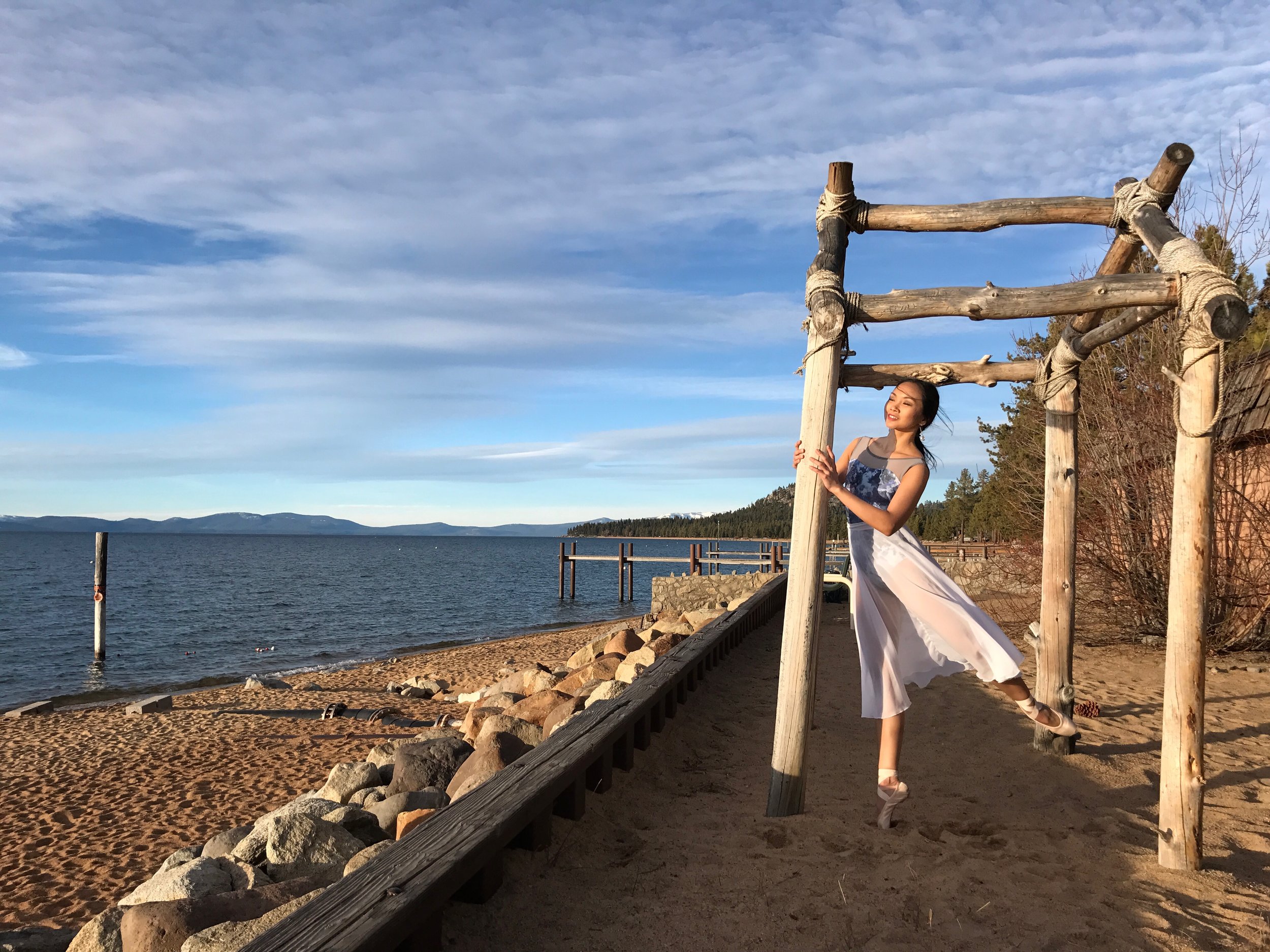 Antelope Canyon
Our next destination was Antelope Canyon, in Page, Arizona. In order to enter the slot-canyon, we had to take a tour led by a Navajo (Native American) guide. We were taken by a truck to the canyon's entrance, and from there, walked inside the canyon where we could see natural sandstone "sculptures," formed by erosion over hundreds of years.
Because the Antelope Canyon is a sacred site for the Navajo tribe, I was hesitant in taking ballet pictures there. But my half-sister approached our tour guide to ask for permission, and she approved our request. She said she would love to see ballet.
From Antelope Canyon we made a quick stop to Horseshoe Bend, a horseshoe-shaped portion of the Colorado River. The breathtaking view there was not to be missed!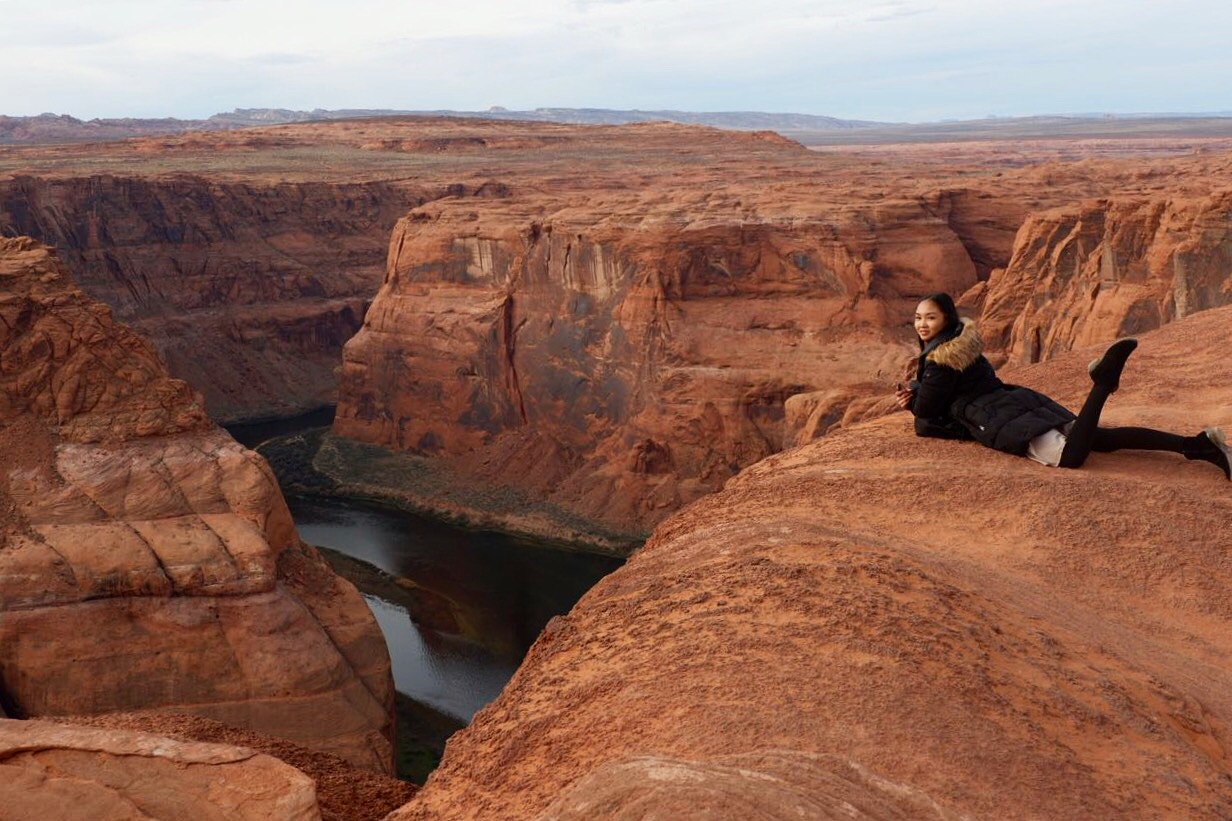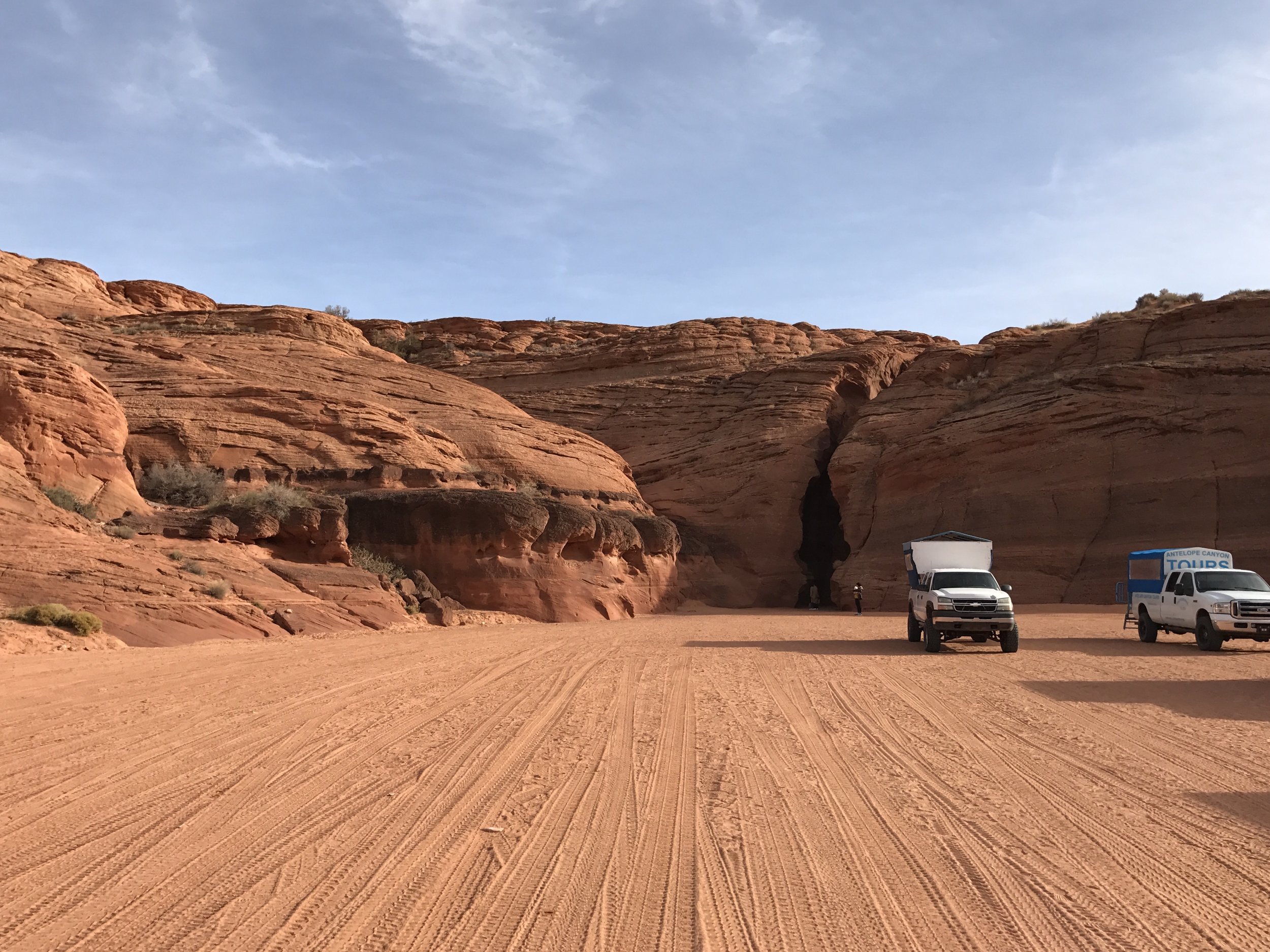 Las Vegas
Of course, our trip wouldn't be complete without a visit to Las Vegas. We stayed at The Mirage, which has its own casino. My half-sister told me to try playing the slot machine. I told her I'd rather spend the money she gave me on ballet stuff! I'm not into gambling. But I do "waste" a lot of money on ballet. I guess everybody has their own addiction.
Las Vegas was the last destination of the road trip. We headed home tired but happy. The great thing about taking a road trip is that you can enjoy the journey as much as the destination. You get to see the different landscapes of different regions, each with its own beauty. You learn to appreciate the diversity that exists in nature.
What I'm most glad about is, I got to spend time with my family in such a memorable way. At the end of the day, wherever we are in the world, it's our nearest and dearest who will always be there for us!